With our first tournament on the horizon, I feel reflective.
In Ultimate we experience challenges and opportunities at every tournament, in every game and during each point.
As I look back on 2013, I see a season of challenges.
Yes, our 33-2, golden Canadian Ultimate Championship season, the most important in Toronto Mixed touring in almost a decade, was actually a series of challenges.
Coming off a silver medal winning 2012 season in Victoria, the team was in flux during the winter of 2013 – the retirement of a captain; many of the men looking at Masters; 2 amazing new babies taking up precious time; 2 expectant mothers; a mid-season wedding…
Motivation was wavering.  After years of middling success, Union had finally consolidated talent and produced the best 2 year (5th in 2011, 2nd in 2012) run from Toronto in years.  Had the energy of consolidating, recruiting, developing and losing talent, finally taken its toll?  Was Union 2012, Toronto Mixed's success, also its final act?
The truth is, we were that close to being a Masters team.
Challenge – Expectations:
For an aging core, if we were going to commit to 2013, we had to be better than 2012, win gold and qualify for WUCC 2014.  With that, we set the course for Vancouver 2013 #movinrightalong
With Odyssey returning and new elite teams likely to emerge in a worlds qualifying year, these were lofty expectations.
Challenge – The Roster:
We lost 10 players from our 2012 roster, including 3 starting O-liners and 1 captain.  That's huge.
So we did what we always do, we met for brunch, grabbed a napkin and wrote some names down… the probables, the possibles, the hope-to-gets, the doubtfuls, the rooks, the newbs…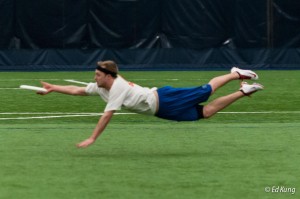 In the end, we added a Kiwi, a Swede, Pam and Peyton, 2 monkeys, 3 players with hour and a half commutes, Chandler, a ladder freak, PPK, the Predator, a kid who had never toured and "yellow visor guy".  Cutting to the chase, we added a former GOAT player, a current RUSH player, 7 players with Worlds experiences, a lefty and what turned out to be our 2013 male and female MVPS – that's a lot of weapons!
We got a little lucky, but the fact was: winning hardware put us on the map – we had 180 players show up for tryouts!  That's unbelievable.
Challenge – ICONS:
We were stoked about this team – its depth and its potential – but 2 things made us nervous: schedules and chemistry.  Most of our players had to miss 1 or 2 tournaments.  In the past we would have preferred player commitment, but this year we leaned more towards skill and letting the vibe at the core of Union galvanize the team's chemistry.
But, adding 12 new players is never simple, teams need to gel, to be organic, to not be manufactured.  Moments on the road, in hotel rooms, at practice and on the field are what build team character – the ingredient you need to overcome challenges as a team.
In 2012, we came 1st at Motown Throwdown.  In 2013, we came 5th.  We shit the bed.  Most of our opponents likely smirked when they found out we were Canadian gold medal contenders.
Motown was once again the turning point of the season but for two very different reasons than in 2012:
Losing is a good thing; and,
Challenge – The Comforts of Winning:
Although our commitment was disparate, the team improved because of it.  Our U23 player grew exponentially, our U23 coaches learned new strategies, depth players got more PT and whoever missed time made up for it by working their asses off.
Wins at the Toronto Ultimate Festival, Philly Bell Crack and the Ontario Ultimate Championships proved that we were good.  But were we good enough to win Natties?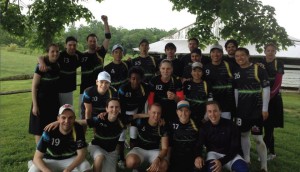 For me, our biggest on-field challenge was the quarter-final game against CLX at Poultry Days.  We were ahead all game.  We lost.  We were too content with losing – "they won WUCC 2010" we said, "we still played them hard".  My fear with these games, is that the team character remains content with being close – "we can compete".  My intrigue with these games, is that the team becomes more motivated – "close isn't good enough, how do we win next time".  But with Motown satisfying our off-feld needs, we had no other tournaments to test our on-field needs before Nationals…
Challenge – Nationals:
With all due respect to the other teams, we were hedging our bets against 3 other teams – Odyssee was coming off a tremendous win at the USAU US Open and were the defending CUC champs.  TFP were perennial contenders, the reigning Mixed World Champions and a complete X-Factor – never knowing what talent they'd recruit.  Stache was a who's-who of Furious and Traffic alumni with Ultimate resumes that any player would be jealous of.
Thursday's pool play went as scripted, all 4 of the top teams, ran the table (3-0) and held seed.
Our toughest game was against Skysharks, the team we beat in the 2012 semis in front of a boasterous home town crowd.  They were strengthened in 2013 by former Furious George stand-out John Norris, who anchored their O-line with an array of salty throws.  Much to his chagrin, "Yellow Visor Guy", aka Stats Dolan, aka Pat Dolan, shut him down with a tremendous game on D.
Friday's cross-over games would present our first challenge of the tournament – Odyssey in the last game of the day.  After 2012's loss, this was the game we had in our cross-hairs.
The game was abuzz – end of day, showcase game, beautiful day, beer garden, lots of spectators and the rematch from the 2012 finals.  There was quiet anticipation amongst the players – this game wouldn't kill our golden chances but it was a statement game – to prove to ourselves that we had the talent and to prove to them that they should be worried.
Our team showed up to play, our O clicked and our D smothered their stars.  The game had an emotional tension to it, the balance shifted enough in our favour to be confident but could teeter back at any moment.  After a tight start, we pulled away for a convincing 15-9 win.  From the first point on, when we stormed the field, we fired on all cylinders.  Odyssey seemed caught off guard.  We may have won the game but there was no way that Odyssey would let that happen again.
In our  Quarter Final against Bunny Thugs, from Saskatchewan, we played methodically and efficiently, allowing us to use our team depth to take the win.
Every tournament has one.  A Cinderella team.  CUC 2013's Cinderella team was Gecko.  A known quantity in the Canadian Mixed scene but one that hadn't toured in 4 years.  This young, skilled team from Quebec, made noise on Day 2 by upsetting Stache and turning the schedule on its head.  We met them in the Semis.  On a very hot day, we took it 13-7.  Gecko went on to earn the 4th worlds bid.
We had beat Odyssey, our O and D were firing, we punched our ticket to Italy… it was time for the finals.  In front of the home town crowd, we had something to prove – to win gold.  With Stache having some of the most highly decorated players in Canadian Ultimate history, we knew we had to control our fate.
After a very subdued start with each team holding serve, Stache had the first turnover, we converted and slowly built a lead.  WIth some big plays and tight defense, the game was hard fought but we managed to win convincingly 15-9.  Gold was ours!
Throughout the season, our captains emphasized the importance of mentally resetting in the face of adversity, during every challenge.  Whenever we let doubt creep into our minds, kick it in the ass and get back to business.  As individuals and as a team, we managed to do it for every game and every point at Nationals.
Despite our challenges: rebuilding a team, letting chemistry evolve and meeting high expectations, we rose above and conquered them all.  We earned gold, earned a worlds bid and guaranteed that we'd be back for another year.
In 2014, there will certainly be challenges, but I foresee a season of opportunities…
– Union
For a full list of CUC 2013 results: http://wp.canadianultimate.com/cuc2013/schedules-results/mixed/
*The idyllic white trash dance club, with two just-drunk-enough-locals that took exception to a group of 25 beautiful Ultimate players… We twerked like champs, stole their lobster, showed spirit in the light of thuggery and flat out won the party.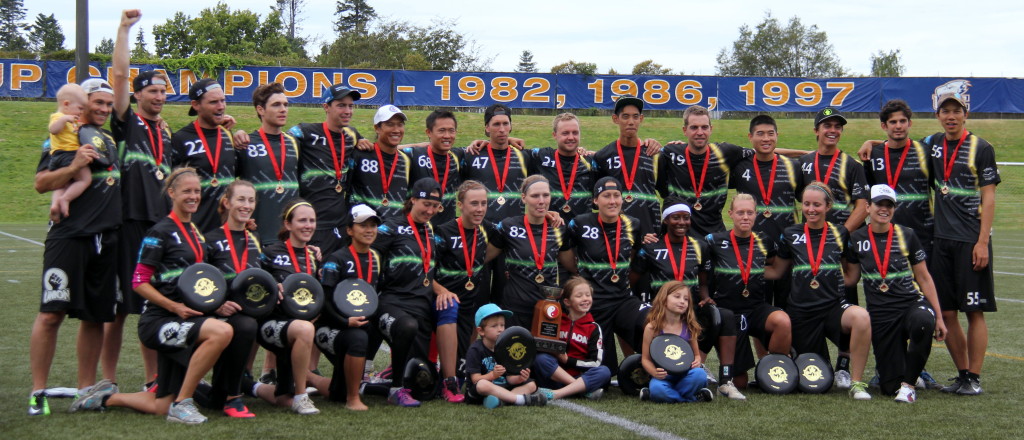 About the Author